Parent Zoom Meeting - Teams 6A and 6B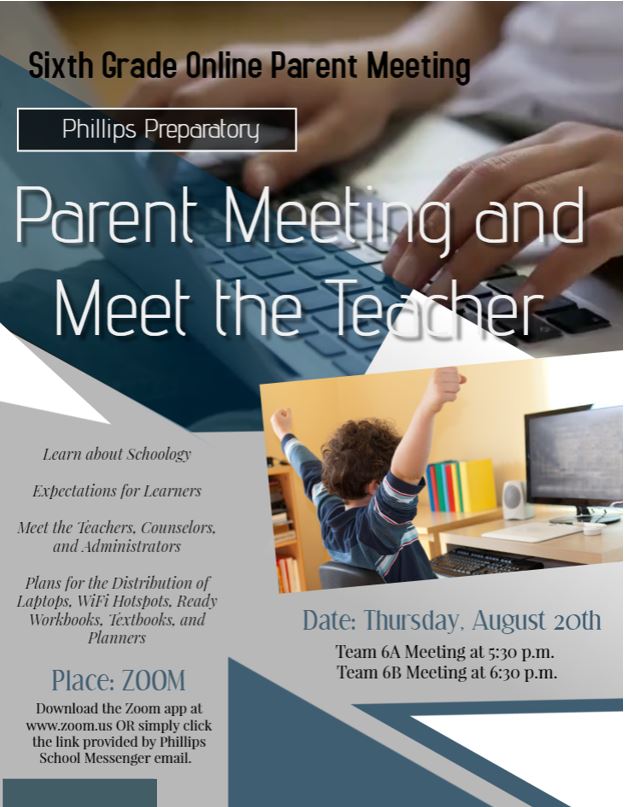 ---
A Zoom Parent Meeting (online) is scheduled for Thursday, August 20th. Parents of incoming 6th graders are invited to attend. This will be an opportunity for you to meet your child's teachers, hear about the Schoology online learning platform, and view the schedule for the distribution of student resources (laptops, Wi-Fi hotspots, textbooks, Ready math and reading workbooks, and student planners).
A link for the Zoom meeting will be emailed to parents this Wednesday. The link should allow you to join the meeting directly, but you may want to download the free Zoom app prior to the meeting at www.zoom.us. As soon as you join the meeting on Thursday, please go to the chat room and type your child's first and last name. This will allow us to identify parents who may miss the meeting.
We will continue to send voice messages and emails as well as post information on the school's website (www.phillipsprep.com), Facebook, and Twitter. Also, you may access more news at the Phillips Pirate Parent Compass (https://sites.google.com/mcpss.com/phillips-preparatory-parent-si/home) or the MCPSS support site (https://acp.mcpss.com/home). We look forward to seeing you Thursday on Zoom!